Outcomes
The Outcomes We Seek to Achieve
Our 2021-2025 strategy comprehensively captures what we do to support and grow the affiliate network, the heart of the Keep America Beautiful impact. This plan places a strong emphasis on the central role of our geographically dispersed affiliate network and on its unmatched passion, creativity, and expertise. It recognizes the importance of investing in the network's growth and elevating and coordinating its essential work. We move from rolling up a set of existing initiatives to selectively choosing what we can do best and most effectively, which we then amplify for greatest impact across the network. By offering core programs, tools, and resources as options, we encourage local communities to define what is beautiful for them and work beside them to achieve their goals. We will work in partnership with our affiliates and partners to (1) restore communities and, then, (2) support local affiliates in sustaining the resilience they create and build.
Community Restoration

Clean: End Litter and Reduce Waste
Green: Plant trees and nurture green spaces
Community Resiliency

Mobilized: Engaged and knowledgeable residents
Inclusive: All stakeholders are included
How KAB will achieve these outcomes:
The KAB Communities Initiative – Beautifying and Unifying Communities Across the Country
In order to unify the work of KAB, create larger funding opportunities, and increase the social impact of our work, we are repackaging and combining existing KAB events and programs into a larger collective impact initiative, engaging and hearing from local stakeholders, impacting all corners of the community, and telling a larger story on a national and local level. The initiative will include national and local funding, marketing, events, and program opportunities, enabling us to speak about it as a "national movement with local execution."
There are core components of this vision for collective impact that will need to be in place to support the initiative. The network agrees on a common agenda and a shared vision of restored communities that are clean and green and made resilient to the challenges of today's world by engaging and mobilizing all community members and a wide range of government, nonprofit, and corporate partners. We will need to make a stronger commitment to shared measurement; agreeing to track out progress in a common fashion so that we can continually show impact and improve our performance as a network. The work can only reach the scale that we desire if it is built around mutually reinforcing activities. While some members in the network may participate in different components of our collective work, each set of activities in a single area (e.g., the Great American Cleanup) need to be consistent in order to maximize the impact in that area. Continuous communication is a critical component for building greater trust, relationships, and collaboration in the network. Lastly, Keep America Beautiful will be the backbone of this network with a team of professionals dedicated to supporting the work of the many affiliates through expertise, support, marketing and branding, and fundraising.
The work on the ground will continue our legacy of creating clean and green communities. Community-focused events such as the Great American Cleanup, programs, and targeted grants drive the measurable social impact in these communities and the progress toward the SDG indicators selected by the network.
Communities, through Keep America Beautiful affiliates, will be mobilized and the work of the affiliates will be inclusive both for key partners in the work but, also, for community members so that the work represents their needs on the ground in the community.
Community Restoration
Clean: End Litter and Reduce Waste

The Keep America Beautiful affiliate network and our millions of volunteers are present and active in hundreds of communities across America. The energy, creativity, and effectiveness of their work strengthens and connects our network through a passion for keeping their communities clean. We will coordinate national campaigns to end litter and reduce waste, sharing solutions that work with our entire network, providing resources, trainings, and technology platforms that allow good ideas to grow rapidly.
The key outcome metrics for these initiatives will be determined by the shared intelligence of the network as part of the collective impact work but will be informed by the historical work conducted in these areas. For instance, there are core metrics that have been at the heart of our work for many years (e.g., pounds of litter and debris removed in the Great American Cleanup) that will need to be at the core of success metrics. However, the SDG goals and indicators will also need to be aligned with these measurement efforts as we consider the downstream impact of the focus initiatives.
The Bottom Line
Clean: End Litter and Reduce Waste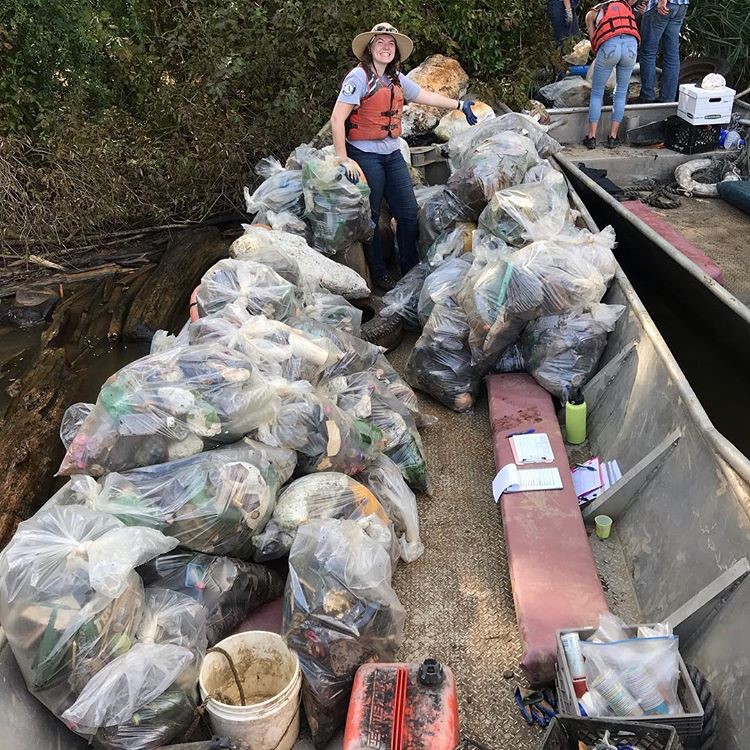 Community Restoration
Green: Plant Trees and Nurture Green Spaces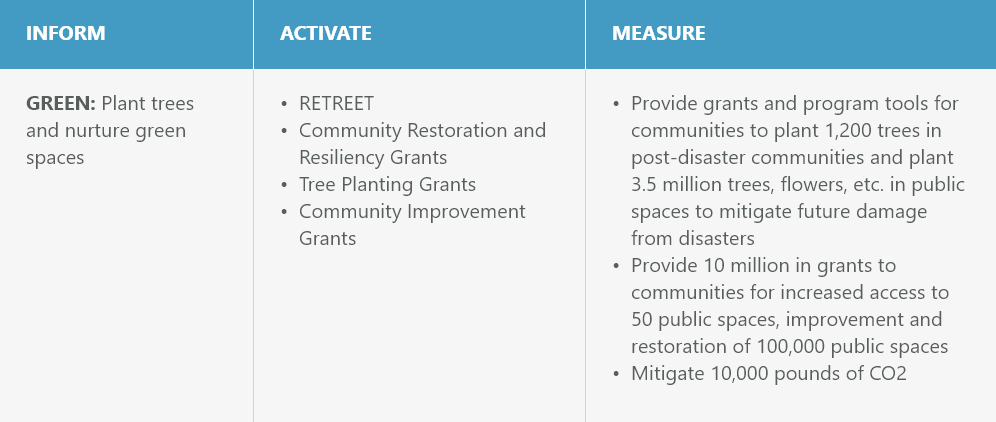 Trees and green spaces are essential to human life. Their environmental, psychological, social, and economic value to our communities is inestimable. Planting trees and other plants is a practical, effective, and unique way for volunteers to help a community, and its public space, become more resilient. Trees and plants provide us with oxygen, food, shelter, medicine, and tools. They also increase property values, improve physical and psychological health, conserve energy, mitigate storm damage, sequester carbon, and save water. Given these numerous benefits, it is unfortunate that mature trees take the longest to replace of everything lost when disaster strikes. Keep America Beautiful will develop and grow programs to provide communities with trees at times and in the places where they need them the most, as well as the support to increase and sustain green spaces.
As with Clean-End Litter and Reduce Waste, the key outcome metrics for these initiatives will be determined by the collective intelligence of the network but informed by the historical work conducted in these areas. For instance, we have been tracking the trees planted (and their carbon benefit) for a number of years but that may need to be supplemented with other SDG goals and indicators.
The Bottom Line
Green: Plant Trees and Nurture Green Spaces
Community Resiliency
Mobilized: Engaged and Informed Residents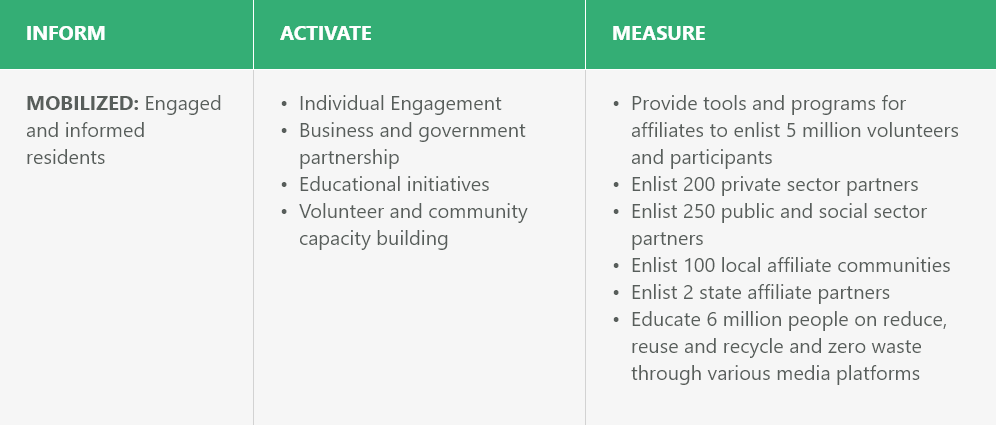 With hundreds of affiliate communities and millions of volunteers, Keep America Beautiful is a movement. Yet, there are thousands of communities and millions of individuals who are not impacted by or engaged with the work of Keep America Beautiful. Therefore, our moonshot is to double the population and the number of communities impacted by Keep America Beautiful. We can achieve the potential of our movement—our collective impact—but only by significantly increasing our reach and engagement. We will work to increase not only the number of affiliate communities in our network, but also the number of people whose lives are improved through our programs.
Specifically, this means reaching millions more Americans on an annual basis with our message and our programming. We need more volunteers, participants, donors, and advocates. By growing individuals' connections to Keep America Beautiful through a ladder of engagement model, our goal is to take them on a journey from being aware of Keep America Beautiful to becoming an advocate for our work, which, in turn, becomes their work. We will achieve this outcome through smart marketing, communication, and programming that connects to individuals' lives and their interests and builds off the strong brand awareness and brand affinity that we have with large numbers of Americans.
As Keep America Beautiful determined more than 55 years ago, creating the change that we wish to see on the ground requires a large and diverse affiliate network with the capacity to engage and support individuals at the community level. We know that we need to grow the affiliate network to reach the geographic areas that are underserved and, critically, the individuals in those communities who do not benefit from our impact. This work starts with similar requirements to our individual growth needs around marketing and communications. However, as a collective impact initiative, we must go beyond to ensure that as many affiliates as possible know that we are part of a movement—a shared vision. To build capacity in our current network of affiliates and to grow that network requires the core components of collective impact discussed above (e.g., mutually reinforcing activities) but also the technology and online community where the affiliates can learn how to do their work better, get access to the expertise and resources they desperately need, and ultimately track and grow their impact so that they can see the work that they are contributing to this movement.
Combined, this mobilization of individuals and affiliates allows us to meet people in the modern communities in which they live, regardless of whether that community is online or outside their front door.
The Bottom Line
Mobilized: Engaged and aware residents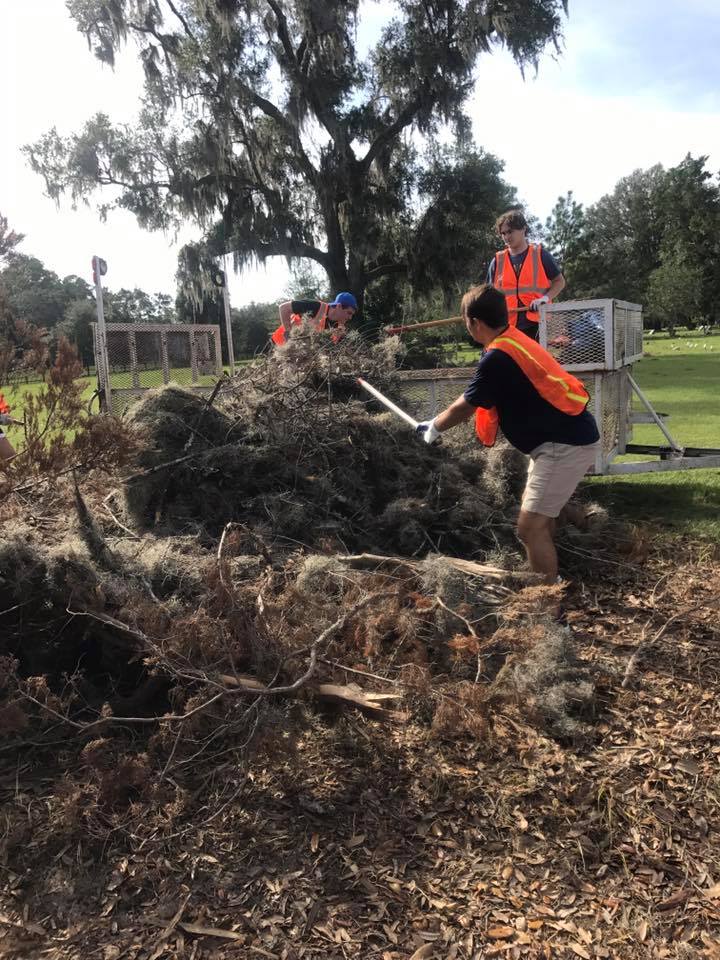 Community Resiliency
Inclusive: All Stakeholders are Represented


For a collective impact initiative to succeed, all voices need to be represented. Those voices need to represent the people whose lives and organizations will be impacted by the movement. Moreover, the voices need not only be represented but they need to be included as part of the broader collaboration (either across organizations or among individuals).
Diversity and inclusion are core values and strategic imperatives for Keep America Beautiful. We recognize that achieving our goals requires authentic representation of and in all the communities we work in to restore and build resilient public spaces. To get there, we will be intentional about becoming more diverse, with an approach that will yield measurable results. We do all this to make our work more effective, to be an employer of choice, and because these practices reflect our values.
Furthermore, we need to elevate partnership in the work that we do because no single organization can see this movement through to achieving its impact without the work of many others. Through geographic communities, thematic communities (e.g., tree planting), and intentional tri-sector partnership, our work will be inclusive and co-created.
The Bottom Line
Inclusive: All stakeholders are represented