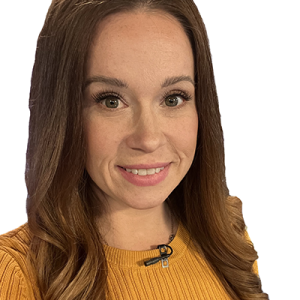 McCall Vrydaghs
Director of Corporate Communications
McCall Vrydaghs was named Keep America Beautiful's Director of Corporate Communications in June 2023. Prior to joining Keep America Beautiful she held the role of Chief Meteorologist for WHIO-TV in Dayton, Ohio.
During her tenure at WHIO-TV, Vrydaghs showcased her expertise in crisis communication and demonstrated exceptional service to the community. She successfully tracked a historic tornado outbreak and received state and regional recognition for her contributions. She's also a three time EMMY award-winning certified broadcast meteorologist who is dedicated to making a positive impact on the environment.
Vrydaghs' involvement with Keep America Beautiful began in 2021 when she partnered with RETREET, one of the organization's programs. Together, with the help of community partners, they replanted over 1,000 trees in tornado-damaged neighborhoods throughout southwest Ohio. This experience opened her eyes to the incredible work done by the organization.
In addition to her professional experience, Vrydaghs serves as Chair of the Station Scientist Committee for the American Meteorological Society. She shares her knowledge and latest scientific information about the atmosphere and climate with fellow broadcasters.
Vrydaghs holds a Bachelor of Science degree in Meteorology from SUNY Oswego.