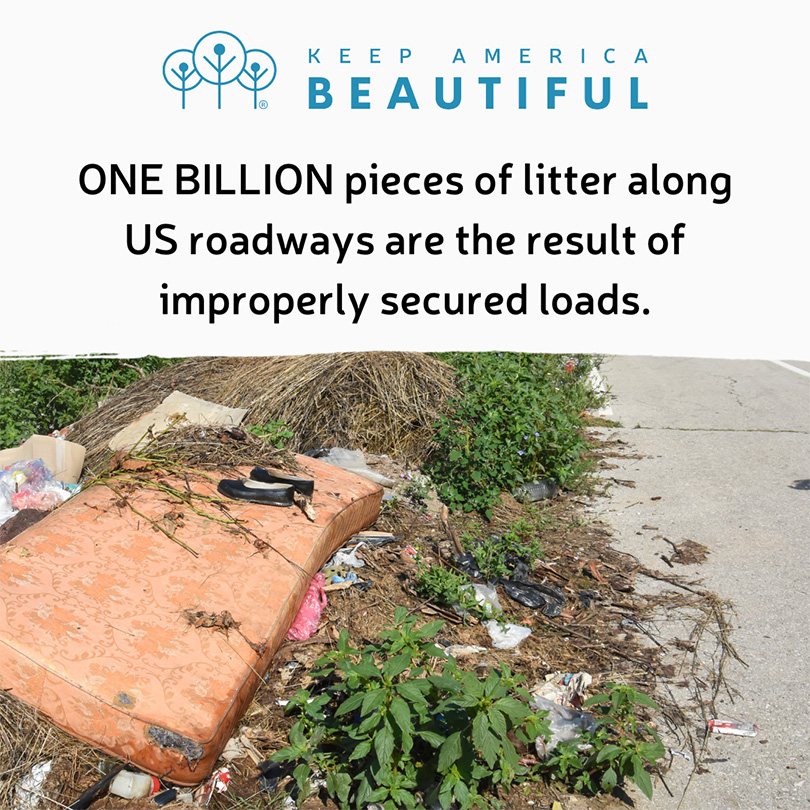 FOR IMMEDIATE RELEASE 
Keep America Beautiful Supports the "Secure Your Load" Campaign to Enhance Road Safety 
June 6, 2023 – Keep America Beautiful proudly supports the "Secure Your Load" campaign, aimed at reducing road debris caused by unsecured items in vehicles, which can lead to potentially dangerous travel conditions for drivers. 
This crucial campaign originated in 2016 following a devastating incident involving the daughter of founder Robin Abel. While driving to work, a heavy object crashed through her windshield, resulting in severe injuries initially deemed non-survivable. Determined to prevent such incidents from happening to others, Abel has dedicated herself to this cause. 
"Secure your load as if everyone you love is driving in the car behind you," emphasizes Abel. 
According to the Keep America Beautiful 2020 National Litter Study, it is estimated that a minimum of one billion pieces of litter along US roadways are the direct consequence of improperly secured loads at any given time.  
"While it is challenging to pinpoint the precise source of litter, our research suggests the aforementioned figure is a conservative estimate," explains David Scott, PhD, Senior Vice President of Impact and Analytics at Keep America Beautiful.  
Recognizing the importance of ensuring public safety on roadways, the U.S. Department of Transportation's National Highway Traffic Safety Administration (NHTSA) has partnered with the "Secure Your Load" safety campaign. 
As per NHTSA data, from 2016 to 2020, an annual average of 16,878 individuals sustained injuries when a vehicle collided with an unsecured object on the road. Additionally, passenger vehicles accounted for 81% of crashes where cargo was improperly secured during this period. 
Join us in our mission to promote cleaner, greener, and safer roadways by securely loading your vehicles. 
About Keep America Beautiful:
Keep America Beautiful, the nation's leading community improvement nonprofit organization, inspires and educates people to take action every day to improve and beautify their community environment. Established in 1953, Keep America Beautiful strives to End Littering, Improve Recycling, and Beautify America's Communities. We believe everyone has a right to live in a clean, green, and beautiful community, and shares a responsibility to contribute to that vision. The organization is driven by the work and passion of 700 Keep America Beautiful affiliates, millions of volunteers, and the collaborative support of corporate partners, social and civic service organizations, academia, municipalities, elected officials, and individuals. Join us on Facebook, Instagram, Twitter, Linkedin, and YouTube. Donate and take action at kab.org.