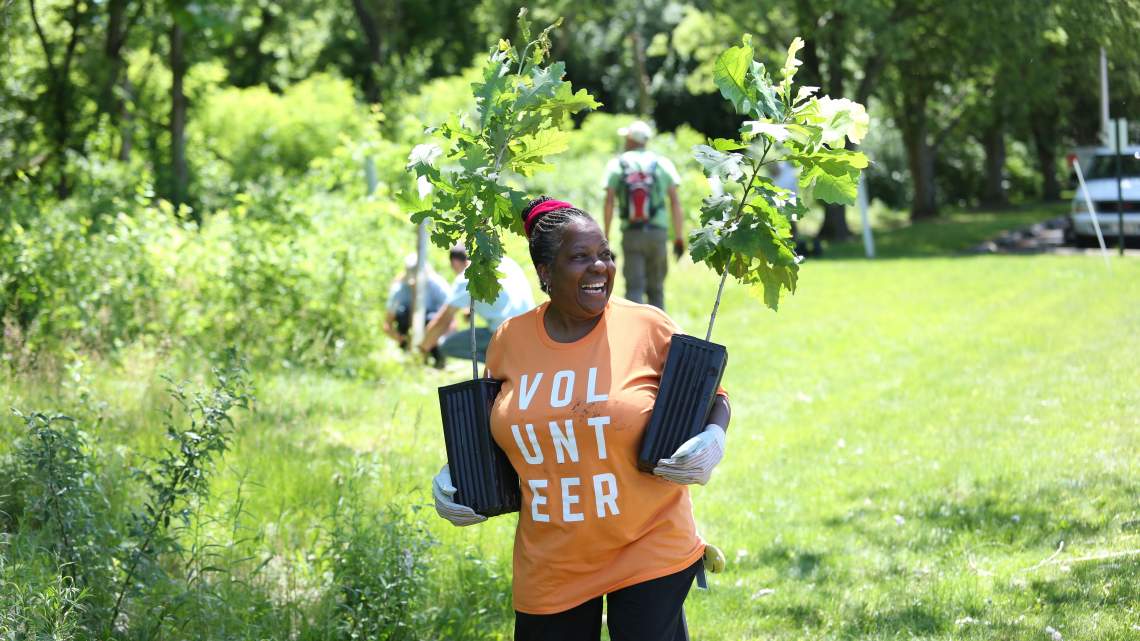 Introduction
For more than sixty-five years, Keep America Beautiful® has cleaned and beautified public spaces for the benefit of humanity and the world around us. Our legacy is built on education, partnerships, and our science-based Model for Change. We bring all of this together through our unparalleled affiliate network and millions of volunteers. This combination of expertise and grassroots engagement makes Keep America Beautiful a truly unique and trusted force for community improvement. Keep America Beautiful, in 2021, enjoys a widely recognized and respected centrist brand, a powerful legacy of success, deep loyalty among its supporters, and the clarity that springs from working to ensure that everyone in America lives in a beautiful community.
The Keep America Beautiful mission is more urgent today than ever before. Since our inception, Keep America Beautiful has worked to shift public attitudes against litter and littering behavior and, currently, we find that public attitudes against litter are far stronger than when we began our campaigns in the last century. Nonetheless, there are significant pressures that increase the challenges of litter and recycling. Consumer markets continue to grow and, in the U.S. alone, over 30,000 new consumer packaged goods products are launched every year, each with new and largely disposable packaging.
Simply stated, the problem of litter has not gone away. We understand the strain that litter places on our natural environment. It is no longer simply our communities about which we worry. Eighty percent of the litter that pollutes our waterways and oceans starts on land. While we have made great strides in increasing access to recycling, the multitude of packaging continues to make consumer recycling a challenge for many. The need for increased education on ending litter and waste is more urgent every day.
Eliminating waste is one part of the equation to making communities beautiful but, alone, it is insufficient. Increasingly, research shows that thriving communities with better health, economic, and social outcomes are supported by vibrant green spaces. By planting trees and greenspaces, and cleaning and beautifying local public spaces, we are working to ensure that Everyone in America Lives in a Beautiful Community. Today, yesterday, and tomorrow, Keep America Beautiful improves communities for future generations, preserving our shared quality of life and fostering a healthier environment for us all.
Our Impact
We are the largest community improvement organization in the United States, building an America where everyone lives in a beautiful community.
Everyone is critical. We intend to increase access to beautiful, clean, and green public space so that all individuals can live in a beautiful community. Furthermore, the process of defining and creating solutions for communities should include all members of the community.
Since our founding in 1953, we have strived to make America's communities more beautiful places to live, work, and play. That remains at the heart of our impact.
Even as the definition of what constitutes a community changes in the modern era, building stronger communities is at the heart of our work, regardless of the definition.
From the ground up, Keep America Beautiful builds a foundation that makes our communities beautiful places to live for everyone.
The Moonshot
We will double the number of
communities and people impacted
by Keep America Beautiful.
Why is this our moonshot? As we look to the impact that we seek to achieve in the longer-term, our greatest strength lies in the scale at which we build clean, green and beautiful communities. No other organization has the breadth of organizations on the ground, connected to and mobilizing the residents of their communities, with the focused goal of creating a beautiful community for all.
Yet, this is not enough. There are corners of the United States that we have not reached. More importantly, there are many in America who have not been engaged in or touched by our work. If our impact is that Everyone in America Lives in a Beautiful Community, we must increase our reach significantly because we cannot achieve that impact at our current scale. At the same time, we must increase the capacity of and resources for our current affiliates. As the network strengthens and grows, all our affiliates—old and new—will benefit from the power of our movement. Our legacy depends on this growth.
For Keep America Beautiful to reach this moonshot, the bottom line is that we would also need to double our funding levels and staff focused on affiliate growth and capacity building. Today there are more than 19,000 communities in the United States. In 2020, our impact in nearly 700 communities is great. Yet, we can and should do more to support and increase the capacity of the current affiliates and grow the network to increase our impact.
Executive Summary:
Maximizing Our Impact