STAMFORD, Conn. (November 1, 2022) – Keep America Beautiful® is proud to announce our next Affiliate of the Month. In this KAB initiative, we feature the great work being done in our network of 700 certified affiliates. Our Affiliate of the Month for November 2022 is Keep Rome-Floyd Beautiful in Georgia.
Like our previous Affiliate of the Month awardees, Keep Rome-Floyd Beautiful is being recognized for the Innovation Award they received from KAB in 2020. The Keep America Beautiful Innovation Award salutes affiliates that have created innovative partnerships and programs to further the mission of Keep America Beautiful.
Q&A with Keep Rome-Floyd Beautiful Program Coordinator, Hannah Bagley: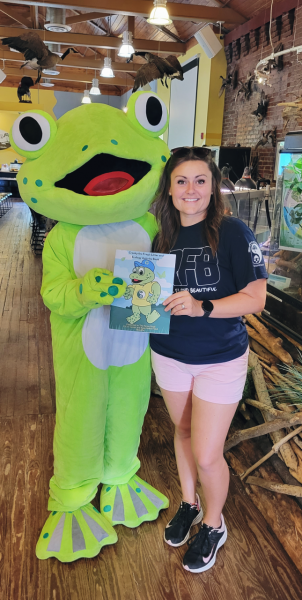 Hannah Bagley, KRFB Program Coordinator, with Croaky the Frog and the Ecology Education Coloring Book.
How long have you been involved with Keep Rome-Floyd Beautiful and what role(s) have you held?
I have been involved with Keep Rome-Floyd Beautiful for 6 years. I volunteered through the Employee Cleanups as the Operations Coordinator in the City of Rome Public Works Division. My position required me to be in my office for a large portion of the day and interact with citizens regarding litter complaints, right-of-way issues and many other concerns; little did I know this position was preparing me for where I am now.
Like many other employees, the Employee Cleanup events were always what I looked forward to: getting out of the office, stretching your legs, taking a mental break, and serving a portion of our local community! These events were so amazing and eye-opening to the issues of litter and blight. I am forever grateful for the 5 years spent volunteering! September 1, 2022 marks 1 year as the Program Coordinator. I am still in disbelief that I get to do what I love every single day – that is to serve the community that I was born and raised in.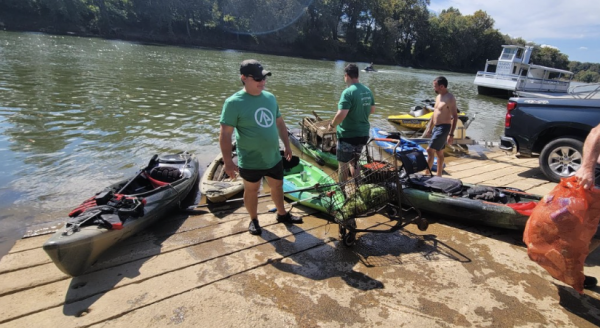 International Paper River Cleanup – 300 pounds of trash collected from the Etowah River
When did your passion for taking care of the environment begin?
I have always had the passion to preserve and protect the beauty of Floyd County. As a child, I was brought up to love and respect the world God has blessed us with and strive to be a good steward of it. I was born and raised in Floyd County, specifically Armuchee which is a heavily rural area – some refer to it as God's Country. I recall always being outside hiking and gardening with my parents, which as a parent now is what we do with my own daughter. That is where I thrive. The beauty of the outdoors is something to behold, and to preserve it is my passion!
Tell us about your staff at Keep Rome-Floyd Beautiful.
We are an all-volunteer committee. I have 10 active committee members, comprised of both local government officials and citizens. I have so many wonderful volunteers that I could not do without! My two lead volunteers, they are both wonderful passionate students who both Attend Berry College here in Floyd County; they both are Environmental Studies Majors. Elisabeth Kilgo this past summer created our Children's Ecology Education Coloring Book for kids, which has been wildly successful! Elisabeth is set to graduate this May. Although I am so sad to see her leave, she is going to flourish in all that she does.

Dalington High School sophomores with Bagley, doing their part to take care of the community. 124 students!!
I also have Sophia Swann. She has been volunteering with KRFB since she was in high school, the past 3 years she has devoted her time to litter cleanups, programs, and countless field trips. She also is responsible for many murals in our community. Both Sophia's and Elisabeth's talent and passion is evident in all that they do, there is absolutely no way I could do any of this without them.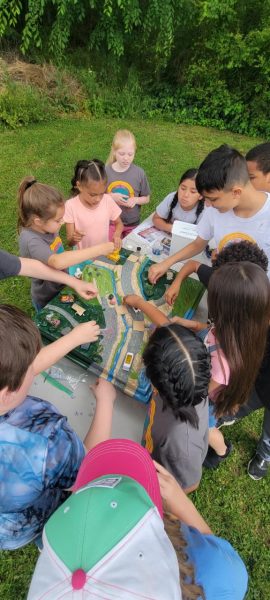 3rd graders hands-on learning about Storm Water Pollution through a KRFB field trip to the Rome-Floyd ECO Center.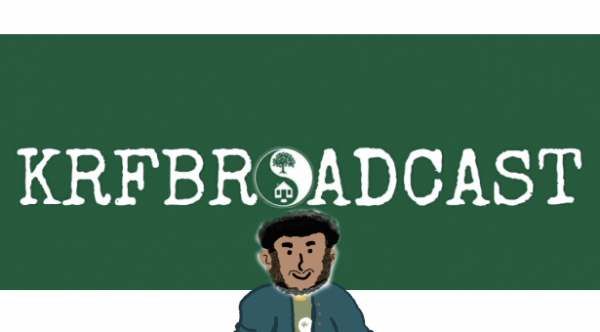 You received a Keep America Beautiful Innovation award in 2020. Tell us about that project.
This award was awarded before I was named Program Coordinator. However, I can say as a participant and volunteer at the time, KRFB continued to reach and educate the citizens of Floyd County and Rome in the wake of the pandemic. Emma Wells, the Program Coordinator at that time, along with her volunteers, created fun and interactive social media campaigns and videos in lieu of in person teaching. They held virtual story times (WATCH ONE HERE) which my daughter and I participated in, all while still carrying out the mission to "educate and involve our citizens to create a more beautiful community." The pandemic threw everyone a curveball. It is extremely difficult to teach virtually. I commend KRFB and the leadership in 2020 for their quick thinking and dedication to continue to educate the children and adults of our community.
What are some other things you and your staff and volunteers have done that you're exceptionally proud of?
Since taking this position, I have made a lot of changes to the structure of KRFB that has been a challenge but from those changes we have seen amazing growth. Since January 1, 2022, we have had more volunteers and removed more litter from our local rivers and communities than at any point in KRFB history – 1,555 Volunteers, 2,372 Volunteer Hours, 9,555 pounds of debris removed.
The community has embraced the vision of KRFB. We are seeing a shift in behavior from our community members. We are able to showcase how the networking at litter cleanups (although it is not glamorous) is fun and necessary for our community to continue to be beautiful.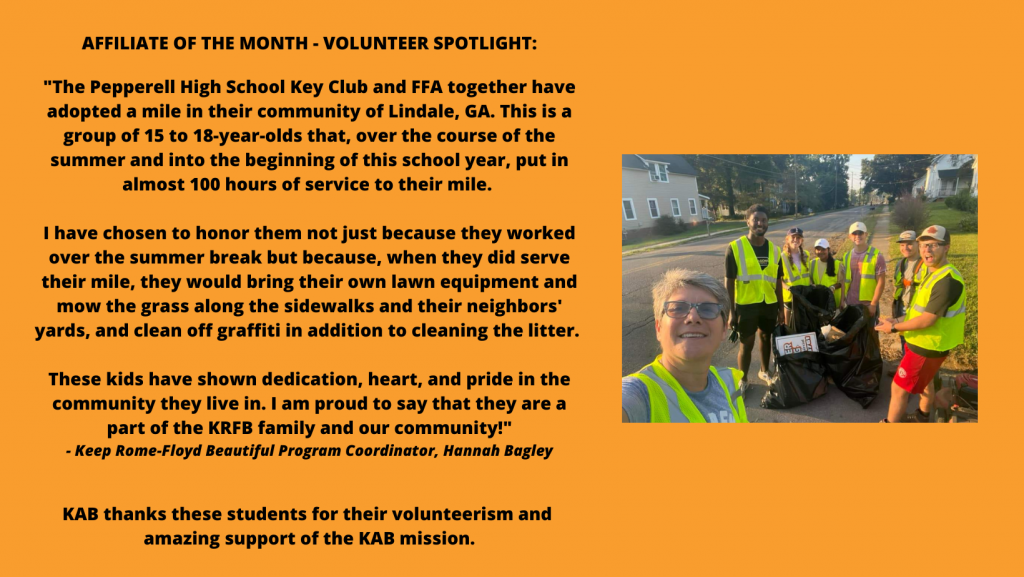 Keep America Beautiful thanks Hannah and the volunteers of Keep Rome-Floyd Beautiful for their continuous hard work. We're proud to have Keep Rome-Floyd Beautiful in the KAB family.
See the interview with Hannah Bagley here: