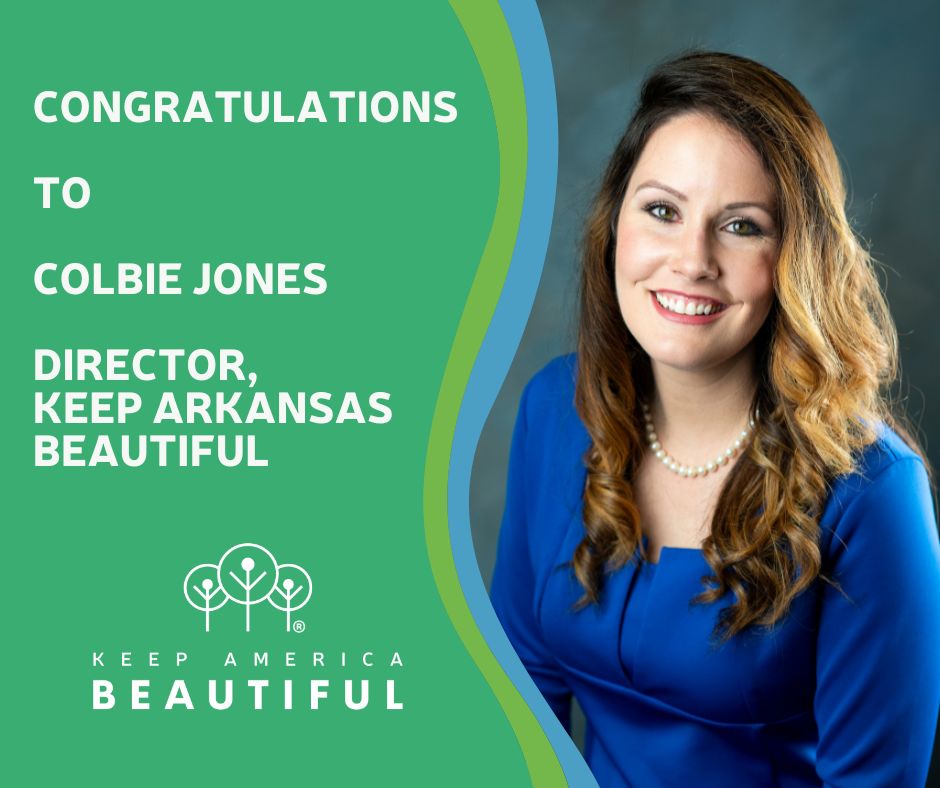 STAMFORD, Conn. (June 29, 2023) – Keep America Beautiful® (KAB) proudly congratulates Colbie Jones, Director of Keep Arkansas Beautiful, for her inclusion in the list of Top 100 Women of Impact in Arkansas. This esteemed recognition celebrates her outstanding leadership, unwavering commitment, and remarkable achievements in fostering a cleaner and more beautiful Arkansas. 
Our very own Director of Keep Arkansas Beautiful, Colbie Jones, has been named one of the top 100 Women of Impact in Arkansas. pic.twitter.com/oTG0XeztQl

— Keep Arkansas Beautiful (@KeepARBeautiful) June 2, 2023
"They had over 600 nominations for a multitude of amazing women, and I'm flabbergasted that I was able to make it into the top 100," said Jones. Acknowledging the tremendous achievements of her fellow nominees, Jones feels grateful for the opportunity to be included among them. "There are so many other women who have made even larger impacts than I have in their various roles, so it is a huge honor to be a part of that list and to be among so many wonderful women." 
Looking ahead, Jones is determined to accomplish even greater milestones with Keep Arkansas Beautiful. Her vision includes fostering increased engagement throughout the state by spreading awareness of Keep Arkansas Beautiful's mission and inspiring more individuals to act. She aims to drive continued growth and provide additional resources to Arkansans, enhancing the quality of life for all. 
"Colbie is a terrific leader and champion for the needs of the people, communities and green and beautiful places in Arkansas. When great leaders put their minds to challenge positive changes follows and everyone wins."
To entice others to join Keep Arkansas Beautiful, Jones emphasizes the organization's invaluable benefits and commitment to the community. "It's a simple concept: don't litter and take care of our environment by doing beautiful things." 
>>IN THE NEWS: Keep Ameria Beautiful Affiliate of the Month
"We're thrilled to see Colbie's commitment to keeping Arkansas communities clean, green, and beautiful recognized," said Gabriela Polo, Regional Director (West) for Keep America Beautiful. "Thanks to her leadership, Keep Arkansas Beautiful has seen tremendous growth and success, reaching all 75 counties in the state… and she's just getting started."  
Together, we can build a more beautiful and sustainable future for all.  

Learn how to #dobeautifulthings in your neighborhood, school, and community by becoming a volunteer.
About Keep Arkansas Beautiful
The Keep Arkansas Beautiful Commission (KAB) consists of a professional staff of three and a nine-member advisory board appointed by the governor. KAB is a part of Arkansas State Parks, a division of the Arkansas Department of Parks, Heritage and Tourism. KAB is a certified state affiliate of Keep America Beautiful Inc. and inspires and educates individuals to reduce litter, recycle and keep Arkansas beautiful. KAB is funded by 1% of the eighth-cent Conservation Tax. For more information, visit KeepArkansasBeautiful.com. Stay in the know by following Keep Arkansas Beautiful on Facebook, Twitter, Instagram, and YouTube and texting VOLUNTEER to 484848.
About
Keep America Beautiful®

:

Keep America Beautiful®, the nation's leading community improvement nonprofit organization, inspires and educates people to take action every day to improve and beautify their community environment. Established in 1953, Keep America Beautiful® strives to End Littering, Improve Recycling, and Beautify America's Communities. We believe everyone has a right to live in a clean, green, and beautiful community, and shares a responsibility to contribute to that vision. The organization is driven by the work and passion of 700 Keep America Beautiful® affiliates, millions of volunteers, and the collaborative support of corporate partners, social and civic service organizations, academia, municipalities, elected officials, and individuals. Join us on Facebook, Instagram, Twitter, Linkedin, and YouTube. Donate and take action at kab.org. 
MEDIA CONTACTS:
McCall Vrydaghs
Director of Communications
Keep America Beautiful®
mvrydaghs@kab.org