STAMFORD, Conn. (July 10, 2023) – Keep America Beautiful® is proud to announce our next Affiliate of the Month. In this KAB initiative, we feature the great work being done in our network of 700 certified affiliates. Our Affiliate of the Month for June 2023 is Keep Brevard Beautiful.
Keep Brevard Beautiful is being recognized for the Innovation Award they received from KAB in 2021. The Keep America Beautiful® Innovation Award salutes affiliates that have created innovative partnerships and programs to further the mission of Keep America Beautiful®.
Q&A with Keep Brevard Beautiful's
Tammie Lizon and Pat Brown:
How long have you been involved with Keep Brevard Beautiful and what role(s) have you held?
Pat: I have been here for 32 years and have probably done almost every job here there is throughout the years. I started as the receptionist and just worked my way up. I was the Executive Director for a few years and kind of worked my way back out. I say I'm weaning myself out of here, but I like the place, so I just hang in here.  
Tammie: I've been with KAB for almost 8 years. And I, as well, started out as the receptionist and have in almost the last 8 years worked my way up to the interim Executive Director. 
When did your passion for the environment and environmental stewardship begin?
Pat: Mine basically began when I started working here. Up to that point, I picked up trash, but I didn't realize the importance of it until I started working here. Keeping things litter free, recycling, and all the things we do, I didn't realize before working here how important it is.  
Tammie: I agree with Pat. That's pretty much the same way it was for me. I've always been conscientious of my surroundings, but now it's like if I'm out and about in my community, and I see some trash in the parking lot, it's just second nature not to go and pick it up. And all our staff, that is one of the things they've realized since working with Keep Brevard Beautiful, is how much trash is in the community, and they can't walk by a piece of trash, which they would have prior to working with us; they are more aware of the litter around them. 
You received a Keep America Beautiful® Innovation Award in 2021. Tell us about this project.
Pat: We did a project at Cape Canaveral Lighthouse. I knew there was a lighthouse there somewhere, but I had never seen it. I was just excited to get to see it. We started planning. Talking to nurseries, talking to volunteers, and getting an idea of what was all going to be involved in it. And once we got started on it, it was very exciting. We had no problem getting volunteers and getting good help. People wanted to be involved. So, we kept going and going, and we got it all done. It looks really nice out there. Plus, we all got to see the lighthouse.  
Tammie: It was actually a part of a new program that we started which was adopt a historical site. And we were able to get some funding through the community to restore the grounds back to its original state back in the 1800's.
What are some other things you, your staff, and volunteers have done and are looking forward to doing in the future?
Pat: Throughout the years we've done a lot of beautification projects. There's a few that stick in my mind. We did a project in Titusville, an entrance to a park up there, and I pass it almost every day. It still looks very, very nice, and I pat myself on the back thinking, "we did that." We've done a lot of beautification projects at libraries, schools, and a lot of different places throughout the county over the years. So, it's not just one in particular that I can think of, there's so many. And we'll continue to do stuff like that. If we're asked for help, we're here.  
Tell us about the staff and volunteers at Keep Brevard Beautiful.
Tammie: We have a very dedicated crew. Always willing to be a team player. They have each other's back. They believe in our mission. They believe in what we do. Like I said, they are more aware of their surroundings, and they just want to help us Keep Brevard Beautiful. 
Pat: We are a family. Through the years we've had so many different employees. Some have come and gone, and I still keep in touch with a lot of them. Some don't even live in the area. You bond with these folks. It's a nice thing. I really do feel like this is my other family.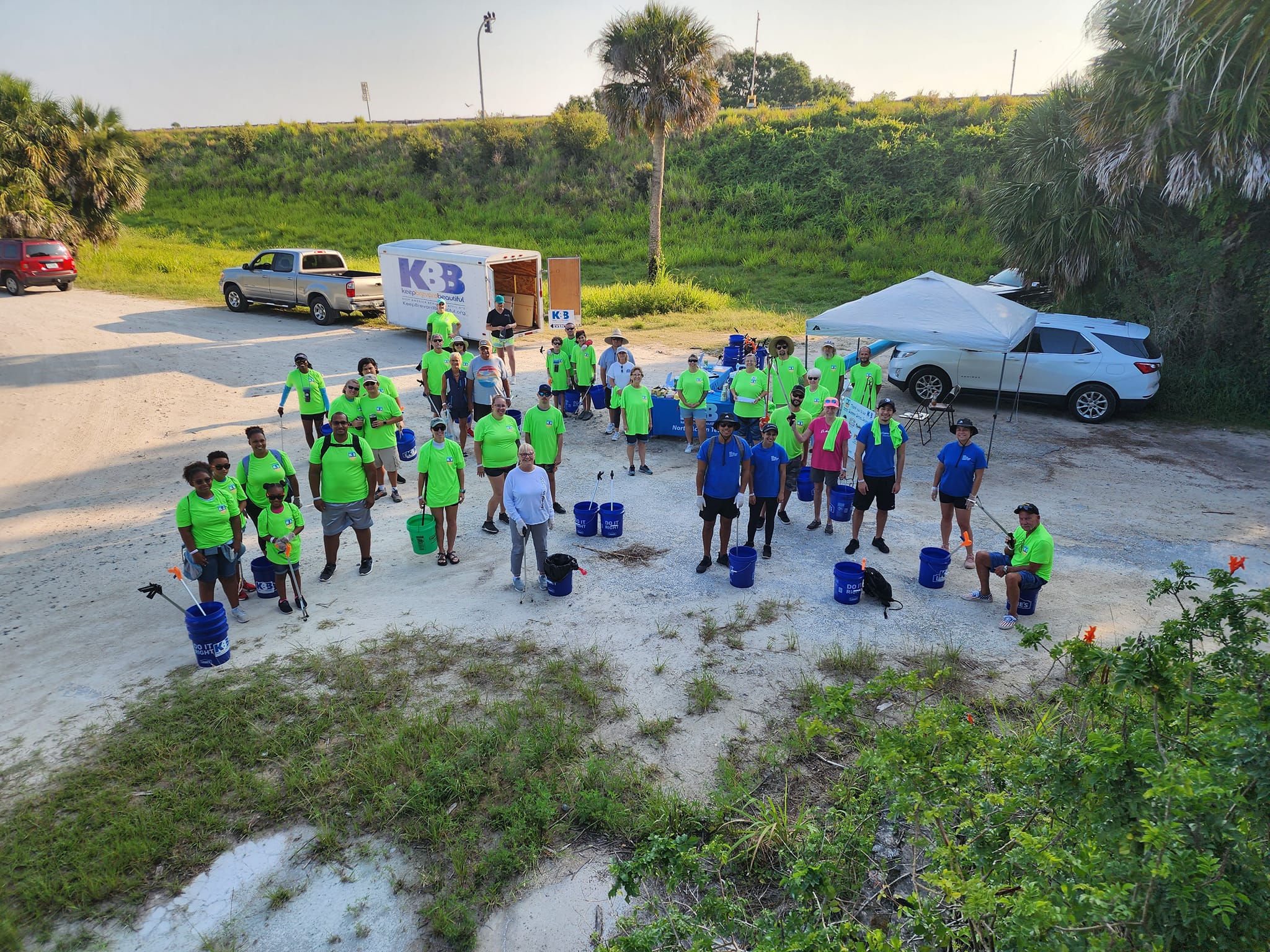 What would you say to someone thinking about getting involved?
Tammie: I would say, come out and give it a try. Volunteerism is one of the best feel-good things a person could do for themselves. It doesn't just better them, it betters the community. Just get involved with your community.  
Pat: When we do clean-ups, we try to make them as fun as we can. Right now, we're going through what we call our "Summer Series," and we pick areas where we do clean-ups and afterwards, we feed all the folks. We have restaurants and such that donate the food. We just make it as fun as we can, so the folks want to come back. 
Tammie: We call it our "After Party." And EVERYBODY loves the after party! They look forward to seeing how much trash we all picked up together as a unit. And they amaze themselves, they amaze us. Then we all sit down and celebrate, and have a few drinks and some good food, and talk about the strangest item that someone found. Always comparing stories.
About Keep Brevard Beautiful
Keep Brevard Beautiful, Inc. (KBB), officially certified in 1981, marks the dedication demonstrated by the volunteers of the Beautification Committee of the Melbourne-Palm Bay Chamber of Commerce, who formed a coalition of business representatives, government and civic organizations to create a charter to become an affiliate of Keep America Beautiful, Inc. The mission of Keep Brevard Beautiful is to develop, motivate, educate and activate community partners to reduce litter, recycle, beautify, and sustain the environment for the benefit of Brevard County.
About
Keep America Beautiful®

:

Keep America Beautiful®, the nation's leading community improvement nonprofit organization, inspires and educates people to take action every day to improve and beautify their community environment. Established in 1953, Keep America Beautiful® strives to End Littering, Improve Recycling, and Beautify America's Communities. We believe everyone has a right to live in a clean, green, and beautiful community, and shares a responsibility to contribute to that vision. The organization is driven by the work and passion of 700 Keep America Beautiful® affiliates, millions of volunteers, and the collaborative support of corporate partners, social and civic service organizations, academia, municipalities, elected officials, and individuals. Join us on Facebook, Instagram, Twitter, Linkedin, and YouTube. Donate and take action at kab.org.